Juvenile Firesetters Intervention Information
---
Finding your child playing with matches or lighters? Have you tried everything you know to stop this behavior, but nothing seems to work? Don't know what to do ... afraid of what might happen if this fireplay activity continues? Curiosity about fire can be a natural, but dangerous thing. If fireplay activity seems to be a common occurrence with your child ... that is not normal, and help is needed to find out why this is happening. Fireplay activity can be deadly ... don't be afraid to ask for help.
Our Juvenile Firesetters Intervention Program, which began on Sep 29, 1994, may be able to help curb this undesireable behavior. Of course, there is no charge for our services, and all information is kept strictly confidential. Although we are not counselors, we have been trained to provide the proper course of action needed after our evaluation of the situation. Our assessment will determine whether the child is in need of additional life saving fire safety education (which we will provide), if the child is in need of professional counseling, or in need of both. Our personnel have received training and attend annual trainings and seminars, from Massachusettes to Arizona, to keep abreast of new developments in this field.
To obtain help, or more information, call the Fire Marshal's Office at (607) 729-0428, or Email the Fire Marshal's Office. If you are not a Johnson City resident, you can still call or email our office and we will refer you to the proper agency where you live.
Teachers, School Social Workers, etc., ... If you know of a student that has a fireplay problem, please call our office for information and refer our service to the parents or guardians.
Call (607) 729-0428 for Help!

Email the Fire Marshal's Office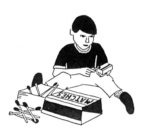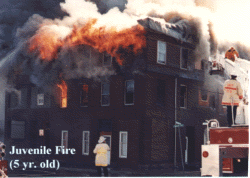 This fire was caused by a 5 year old boy playing with a lighter in a closet. The building contained 13 apartments with over 30 tenants who lost everything they had in the fire. The building was later demolished and a used car lot now occupies the space. We have had numerous fires set by juveniles in Johnson City.
JUVENILE FIRESETTERS - AN ALARMING PROBLEM!

RED FLAGS - WARNINGS TO LOOK FOR

WHAT CHILDREN "NEED" TO KNOW ABOUT FIRE

TYPES OF JUVENILE FIRESETTERS

JUVENILE FIRESETTING LINKS


"Kids and Matches ... a Dangerous Combination"
---