Fire Marshal's Office - Fire Prevention Information
---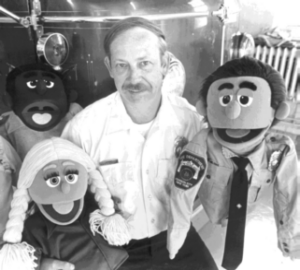 The fire department is heavily involved in fire prevention and education activities for children, adults, civic groups, schools and businesses. Our programs consist of:

ACTIVITIES FOR KIDS

"The FireHouse Puppets" (see right - Left to Right: Melissa, Stan, Fire Marshal Bob & Firefighter Frank)

"The Sesame Street Fire Safety Project" (the fire department is responsible for bringing this program into the Broome County area approximately 30 years ago)

"Freddie the FireTruck" robot

"Juvenile Firesetters Intervention Program"

"Home Escape Plan"


Download template to make your own escape plan

''Sparky's Schoolhouse'' is a classroom portal for teachers. It includes music videos, lesson plans, eBooks and apps.
We currently have several FF's who have been trained and present these programs to children in Pre-K through the 6th grade. Local youth groups are also administered to.

The fire department also provides fire prevention and education to community service groups and businesses in the form of speaking engagements, fire extinguisher demonstrations and training, fire drills, etc.

There is never a charge for our fire prevention programs. If you would like to take advantage of these programs, please email or call the Fire Marshal's Office at 729-0428.

The "Firehouse Puppets" are very popular with schools ... please call at least 2 weeks in advance of the date you would like them to visit. The program is of benefit to children from Pre-K through the 6th grade. It's a "great" show ... the children love and "listen" to them ... invite them soon!

A comprehensive business inspection program is also an important aspect of our fire prevention program. Each business and public assembly is inspected annually.
See the links below for Fire Prevention Information on specific subjects:
DIALING 9-1-1

E.D.I.T.H. - Exit Drills In The Home

FIRE SAFETY FOR THE DISABLED

MATCH & LIGHTER SAFETY

PORTABLE FIRE EXTINGUISHERS

SENIOR CITIZENS FIRE SAFETY

SMOKE DETECTORS

3 MOST COMMON CAUSES OF FIRES


"A Match or Lighter is More Dangerous than a Loaded Gun in the Hands of a Young Child!"